Third Grade Science Task Cards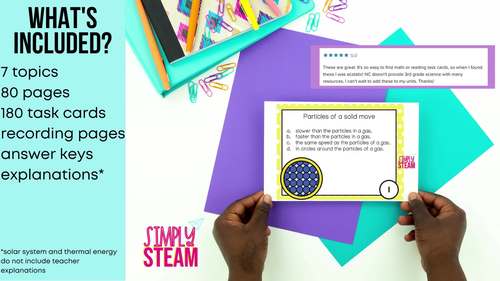 ;
What educators are saying
I love this resource! Paired with the PowerPoints, these have been such a huge help with my daughter during remote learning. She loves doing these "reading around the room" style. Thank you so much!
LOVE this extremely useful resource! Excited to introduce it to my students! We love Task cards! Excited to use them in Science!
Products in this Bundle (7)
showing 1-5 of 7 products
Description
Ace the test with these awesome task cards! These science task cards are the perfect addition to your science units. Use them for review, science centers, and more. Your students will have fun with these.
Save 30% when you purchase this bundle!
States of Matter
Heat Transfer
Plants and Their Environments
Force and Motion
Bones and Muscles
Earth's Features and Bodies of Water
24 Task Cards*
Student Answer Page
Teacher Answer Key
Teacher Explanation**
*Solar system includes 32 task cards. Thermal energy includes 28 task cards.
**Solar system and thermal energy do not include a teacher explanation.
Science Centers
Science Quizzes
Around the Room Activity
Scoot Activity
Understand motion and factors that affect motion.
Understand the structure and properties of matter before and after they undergo a change.
Recognize how energy can be transferred from one object to another.
Recognize the major components and patterns observed in the earth/moon/sun system.
Compare the structures of the Earth's surface using models or three-dimensional diagrams.
Understand human body systems and how they are essential for life: protection, movement, and support.
Understand how plants survive in their environments.
Need more help with your science units?
Don't miss out when new resources are posted at 50% off. Click the star at the top to be notified when new resources are posted.
Report this resource to TPT