Topple Blocks™ Reading, Math, and Language Games MEGA Bundle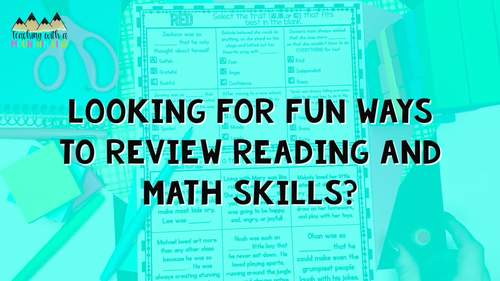 ;
What educators are saying
I am new to the grade and this really helped me to understand how to deepen the learning experience and engagement for my students.
I used the differentiated multiplication and it was so much fun! I cannot wait to use the others next year.
Products in this Bundle (48)
showing 1-5 of 48 products
Description
This is a huge bundle of FORTY-SIX Topple Blocks™ Math, Reading, and Language Skills games at a MEGA discount!
Inspired by Hope King's use of Jenga games in the classroom, students will use colored Jenga/Topple Blocks™ to practice their language skills. Each colored block has six questions. When a student pulls a certain color, their entire team must answer a question that corresponds to the color.
Which Topple Blocks™ Math games are included in this Mega Bundle?
Place Value
Division
Factors, Multiples, Prime, and Composite Numbers
Elapsed Time
Fraction Skills
Fraction Operations
Decimals Operations
Perimeter & Area
Measurements & Conversions
Multi-Digit Multiplication
Geometry Skills
Angles
Addition & Subtraction
Problem Solving
Patterns
Volume
Order of Operations
Which Topple Blocks™ Reading games are included in this Mega Bundle?
Which Topple Blocks™ Language games are included in this Mega Bundle?This is a huge bundle of SIXTEEN Topple Blocks™ Language Skills games at a deep discount!
An answer key is included in each set. This is perfect for having your students self-check their answers as they play!
CLICK HERE to read a blog post about how I use this game in my classroom!
**NOTE: You will need a set of colored Jenga style blocks to play this game. You can purchase them on Amazon HERE. (Affiliate Link) You can also paint the edges of a set of regular Jenga-style blocks found at WalMart!
Don't have Topple Blocks? A printable game board option has also been included! Use these FOUR fun alternatives if you haven't purchased blocks yet, or need to shake things up a little.
Report this resource to TPT
Standards
to see state-specific standards (only available in the US).
Demonstrate command of the conventions of standard English grammar and usage when writing or speaking.
Use relative pronouns (who, whose, whom, which, that) and relative adverbs (where, when, why).
Form and use the progressive (e.g., I was walking; I am walking; I will be walking) verb tenses.
Form and use prepositional phrases.
Produce complete sentences, recognizing and correcting inappropriate fragments and run-ons.