Christmas Activities for Math, Reading, Writing & STEM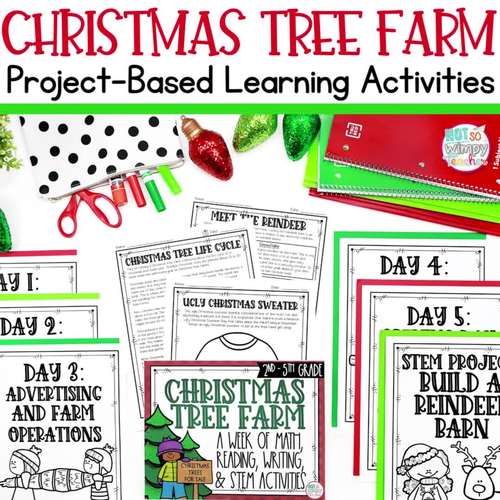 ;
Also included in
What better way to celebrate the holidays than with project-based learning? PBL uses real-world based math problems to engage kids in learning. This project-based learning bundle gives students extra practice and review of essential math skills with fun holiday themes. Your students will love gettin

Price $32.00

Original Price $50.00

Save $18.00
Description
You can check holiday lesson planning off your list because this resource, Christmas Activities for Math, Reading, Writing, is a full-week of festive, interdisciplinary, hands-on activities including STEM, project-based learning, critical thinking, creativity and so much more. Your students are sure to think that Christmas has come early.
This one-of-a-kind holiday activity is the ONLY resource you need this holiday season. It includes 5 days of low-prep activities, 40 fun activities in all, designed for students in grades 2-5. I've even included two versions of some of the activities to make differentiation simple.
You and your class will be transported to a Christmas Tree Farm reminiscent of a Hallmark movie. But this activity isn't all tinsel and lights. While these activities are designed to give kids a holly-jolly feeling, they are packed with real-world based learning opportunities that continue right up until Christmas break. Math, reading, writing, science, social studies, creativity, communication skills and more. Your students will be so busy learning you'll never have to threaten them with the naughty list.
But the best part is using these activities is EASY. All you have to do is print, copy and use. No messy glitter or crumbly gingerbread houses. And no rushing home each night to assemble supplies for the next day's activities. You can sit back, relax, and enjoy some eggnog in front of the fire.
***********************
To get this resource in a money-saving bundle, click the link below:
Holiday Project Based Learning Bundle
************************
What's Included:
More than 75 pages of Christmas Tree-Farm themed activities
40 different activities (some with two versions for lower and upper elementary)
Math, reading, writing, science, communication, critical thinking, creativity
Complete STEM project
Detailed teacher directions
Answer key and lots of detailed examples, when appropriate
Parent letter requesting donations for STEM project (with simple supplies you probably already have in your classroom)
Day 1: Growing Christmas Trees
Christmas Tree Life Cycle (2 versions) - reading comprehension
Christmas Tree Life Cycle (2 versions) - informational writing
Types of Christmas Trees - reading comprehension
Choosing the Perfect Tree - opinion writing
Comparing Christmas Trees - compare and contrast
Mapping the Tree Farm (2 versions) - map making, area (difficult version only)
Pricing the Christmas Trees - problem solving, addition and subtraction
Last Year's Tree Sales (2 versions) - addition, subtraction, problem-solving, fractions (difficult version only)
Day 2: Christmas Tree Farm Attractions
Ice Skating Rink Rules - informational writing
Ugly Christmas Tree Sweater - creative design
Wreath decorating - geometry
Photo Booth Backdrop - creativity
Snack Stand Orders (2 versions) - addition and subtraction, problem-solving
Making Hot Cocoa (2 versions) - writing (procedural, sequencing),
Frost Farm Tree (2 versions) - math (procedural, sequencing)
Meet the Reindeer - reading comprehension
Build a Reindeer Barn: STEM Project
Day 3: Advertising and Farm Operations
The Tree Farm Hours - clocks, elapsed time
Farm Logo and Slogan - creativity and writing
Tree Farm Jobs - reading (use with job application)
Job Application - informational/persuasive writing
Tree Farm Brochure (2 versions) - informational writing & creative design
Social Media Post - creativity and informational/persuasive writing
Filming a Commercial - persuasive writing, public speaking, creativity, editing
Advertising Budget (2 versions) - reading comprehension and math skill addition and subtraction in easy version and multiplication in difficult)
Day 4: Opening Day at the Tree Farm
Tree Farm Ticket Prices (2 versions) - addition and subtraction
Tree Farm Schedule - elapsed time, clocks, problem solving
Holiday Music Playlist - creativity, opinion writing, making a list
Selling a Christmas Tree - persuasive writing
Tree Delivery Route and map (2 versions) - critical thinking, math skills
Snack Stand Brownie Recipe (2 versions) - reading a recipe, following directions, adding (easy), multiplying & fractions (difficult only)
Photo Booth Picture - creativity and writing
Reindeer Treats (2 versions) - repeated addition, decimals & multiplication in difficult only
Day 5: Opening Day Profits and Reflections
Thank You Letter - writing a letter, creativity
Thank You Postcard - writing a letter, creativity
Read the Reviews - reading comprehension
Reflection on Reviews - text-dependent analysis
Tree Sales Graph - interpreting data, addition, subtraction
Gift Shop Graph (2 versions) - graphing
Revenue & Expenses (2 versions) - vocabulary, addition, subtraction
Employee Celebration Party - brainstorming and creativity
Project Reflection - self-reflection, drawing conclusions
How to Use in the Classroom:
This is a week-long activity designed to be used over 5 days. The activities are divided into five different themes, one for each day of the week. The daily activities have a variety of reading, writing, math, and even a STEM activity.
This activity can take anywhere from a few hours to a whole school day, depending on how many of the activities you choose to do as well as your students' abilities. Of course, feel free to modify to meet your scheduling needs.
Complete all the activities for a given day if time permits, or pick and choose your favorites or those you feel are most appropriate for your students. Many activities have been differentiated for different grade levels.
If time is an issue, let your students choose activities..
Allow students to work with a partner or in small groups
Use writing activities or creative activities (like designing the sweater or photo booth) as morning work
Create centers for different activities
Film the commercials and play on the whiteboard or share with another class
Make time to share each day
Refer to the answer key and examples for more ideas
Differentiation:
I've included 40 different activities in this resource, including two different versions for some of the activities. Differentiation is easy with so many choices.
Easier versions are marked with a present symbol located next to the date at the top of the page. More difficult versions are marked with a holly leaf symbol. Select the appropriate version based on the age and ability of your students.
Select one version for the entire class or choose different versions for individual students.
Pick and choose from all the activities included. Although all the activities are part of the overall Christmas Tree Farm theme, each activity is a stand-alone activity. You do not have to complete every activity in this packet.
If you think one is too easy/too hard for your students go ahead and skip it. Choose the ones you like best!
Some activities have two different activities that are appropriate for all grade levels, but you can choose the template you prefer.
❤️ ❤️ Why You'll Love It: ❤️ ❤️
An entire week of Low Prep Holiday activities - just print and use
Fun, unique theme engages kids and provides a framework for the entire week. Students will be invested in the project & eager to work on new activities each day.
No references to Santa or elves
Rigorous, standards-based activities keep kids learning during the busy holiday season
The only resource you need for an easy, festive fun filled week!
FAQs:
Q: What grade is this resource designed for?
A: This resource is designed for grades 2-5.
Q: I don't have enough time to complete all these activities. Do I have to do them all?
A: I've included a variety of activities to make differentiation easy and to ensure that this resource is the only one you need for the holiday season. But these activities can all be used independently. You do not have to complete every activity in this packet.
Q: Do my students need any special materials to complete this activity?
A: Students need basic school supplies like pencils, crayons, and markers to complete this project. The STEM project does require some additional supplies, but most of those are basic items found in most classrooms, like glue, scotch tape, colored paper, pipe cleaners, and cardboard. I also include a parent letter to request additional STEM project supplies.
Q: What is the best way to print the brochure?
A: Select which brochure you want to use. Print the pages as a two-sided copy, or print single pages and photocopy as a double-sided document.
Related resources:
Report this resource to TPT