Complete the Code Directional Coding Activities Bundle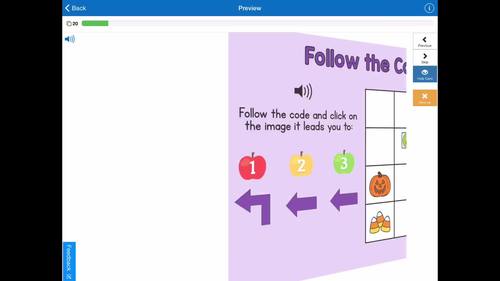 ;
Compatible with Digital Devices
The Teacher-Author has indicated that this resource can be used for device-based learning.
Products in this Bundle (12)
showing 1-5 of 12 products
Description
Want to incorporate more technology into your kindergarten math centers? These 12 digital task card packs are great for practicing beginner coding skills. These fun directional coding activities will work on reading the arrow codes and completing simple codes with two different types of activities:
1. Students follow the code that is written out with arrows and click on the image that it leads to. Starts off with 3 arrows in the code, and then goes to 4 arrows.
2. Drag and drop the correct arrow to complete the code. Students pick the right arrow to place where the question mark is. Starts with 1 missing arrows, and then goes to 2 missing arrows.
*Audio and written directions are included on each slide.
They are:
• self-correcting (it will tell the student if they are right or wrong as soon as they answer),
• paperless (you never have to print anything out),
• digital (they can be played on the computer or with an app on a tablet),
• easy to use!
Want more math Boom Cards?
Need the Unplugged Coding version? Check this out:

--More Information about BOOM cards--
With your Teachers Pay Teachers purchase, users new to Boom Learning get a three-month free trial of student progress reporting for up to 150 students. Your trial includes the ability to make up to 5 free DIY decks. You may upgrade or cancel at any time. Boom Cards play on modern browsers (released in the last three years) on interactive whiteboards and computers. Boom Cards apps for mobile and tablets are also available. Not sure if your browser is modern enough? Try a free Boom Cards deck first. When you redeem your purchase, Boom Learning opens an account for you if you do not already have one. A BOOM LEARNING ACCOUNT IS REQUIRED TO USE BOOM CARDS. If you do not subscribe at the end of your trial, you will be able to continue your purchased Boom Cards with the Fast Play feature. Fast Play does not track individual progress. To protect student privacy, we delete students 3 months after a premium subscription expires or 6 months after the last login for free subscription tiers.
Stay connected:
♥ Follow me on Instagram
♥ Like me on Facebook
♥ Follow my Blog
♥ Take a look at my Pinterest
Report this resource to TPT