Engage NY/Eureka Math PowerPoint Presentations 4th Grade Module 6 ALL LESSONS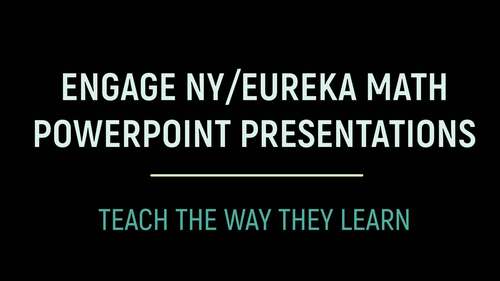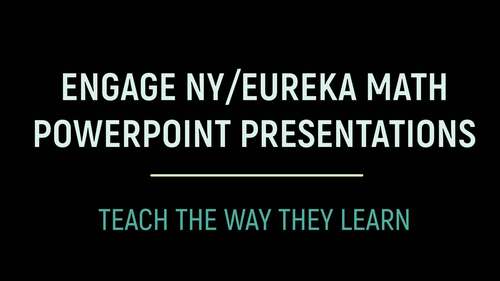 Created By
Teach the Way They Learn
Also included in:
HUGE SAVINGS WHEN YOU BUY FOR THE ENTIRE YEAR! Less than $1.00 per lesson! All 153 lessons are included in this bundle! $125/153 lessons = $0.82 each. WOW!POWERPOINT PRESENTATIONS. To secure the clipart I use in my products, the slide backgrounds are not editable . HOWEVER the text in each slide,

$152.00

$125.00

Save $27.00

Teach Engage NY Math a.k.a. Eureka Math easily using PowerPoint slides! ADMINISTRATORS - I created these presentations because the prep for a new Engage NY / Eureka Math lesson was taking so much time! Help your teachers - with the lessons, teachers can turn their attention where it needs to be - th

$1053.00

$597.00

Save $456.00
Product Description

Standards
POWERPOINT PRESENTATIONS. To secure the clipart I use in my products, the slide backgrounds are not editable . HOWEVER the text in each slide, IS editable. You can add, delete or rearrange text to customize the presentation for your classroom if you choose to do so.
These Engage NY (Eureka Math) Presentations are easy to follow during lesson presentation. There is no need to turn back to the manual. All the key elements are ready, in lesson order, for you to read and follow along. Each Presentation will help you teach all the components of one entire lesson, from Fluency Practice, to the Application Problem, through the Concept Development, Problem Set, and Student Debrief at the end. These lessons are very detailed, and the presentation does not entirely take the place of reviewing the lesson and becoming familiar with its content. Each lesson typically contains the following: 1-3 pages for Fluency Practice, 1 page for the Application Problem, 2-5 pages Concept Development, 2-3 pages Problem Set and 1 page for Student Debriefing at the end of the lesson.
I did not write the Engage NY content; it is available online for free at Engage NY.org. Anyone can use it! I am selling my time (and oh so much of it!) and creativity in designing supplemental presentations. From what I understand, Engage NY and Eureka Math are very similar, if not identical. I've had many teachers tell me they use my Presentations to teach Eureka Math content. I personally have only worked with Engage NY.
Engage NY (Eureka Math) is a free curriculum that I began using at my school about 4 years ago and while the lessons were AWESOME, the manuals were very dry, extremely detailed and hard to follow. On top of that, there is a brand-new lesson every day. Add that into the daily lessons for reading and writing plus all the other content areas, I knew there was no way I'd remember the lesson flow. Therefore, I decided to create presentations to help me remember the organization of the lessons. These lessons mirror the module and allow you to interact with your students while staying on track. They have the answers to the application problems as well as the problem set questions, so you can have students recognize their mistakes and you can provide immediate feedback.
------------------------------------------------------------------------------------------------------------------------------------
Would you like some help organizing your lesson flow? Check out my Engage NY/Eureka Math editable lesson planning template: ✽ Engage NY Math Lesson Planning Template ✽
------------------------------------------
Engage NY Grade 4 ENTIRE YEAR BUNDLE!
Log in
to see state-specific standards (only available in the US).
Compare two decimals to hundredths by reasoning about their size. Recognize that comparisons are valid only when the two decimals refer to the same whole. Record the results of comparisons with the symbols >, =, or <, and justify the conclusions, e.g., by using a visual model.
Use decimal notation for fractions with denominators 10 or 100. For example, rewrite 0.62 as 62/100; describe a length as 0.62 meters; locate 0.62 on a number line diagram.
Express a fraction with denominator 10 as an equivalent fraction with denominator 100, and use this technique to add two fractions with respective denominators 10 and 100. For example, express 3/10 as 30/100, and add 3/10 + 4/100 = 34/100.
Add and subtract mixed numbers with like denominators, e.g., by replacing each mixed number with an equivalent fraction, and/or by using properties of operations and the relationship between addition and subtraction.
Explain why a fraction 𝘢/𝘣 is equivalent to a fraction (𝘯 × 𝘢)/(𝘯 × 𝘣) by using visual fraction models, with attention to how the number and size of the parts differ even though the two fractions themselves are the same size. Use this principle to recognize and generate equivalent fractions.
Report this Resource to TpT