Informational Nonfiction Text Features Unit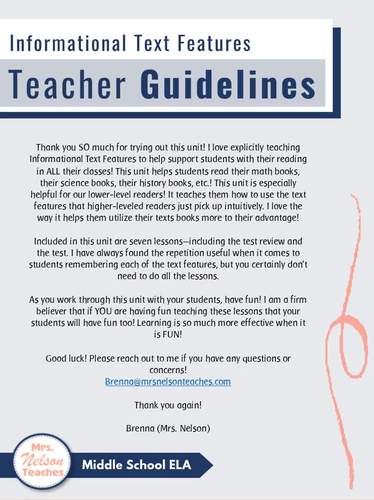 ;
Easel Activity Included
This resource includes a ready-to-use interactive activity students can complete on any device. 
Easel by TPT is free to use!
Learn more
.
What educators are saying
This is a really well put together unit. My students had fun with the engaging activities and it has really helped them to understand text features.
This resource was a great help to bridge the gaps in my lesson. The textbook we have is limited, and this saved me so much time!
Description
Do your middle school students struggle reading informational texts? This is designed to help middle school students learn to identify and utilize informational text features to help them navigate through and deepen their understanding of a text. This text features unit is an excellent ELA back-to-school activity!
Teachers often assume that students know how to use glossaries, headings, etc., but many times they don't. Explicit teaching of Informational Text Features is necessary for students to gain these basic reading skills and become more comfortable in their reading.
This unit is especially beneficial for lower-level readers, English language learners, and Special Education students who may need extra support with informational texts.
Included are many FUN, engaging activities (cooperative and individual) that students will love as they develop important skills.
:
title
subtitle
picture
caption
heading
subheading
bolded words
footnote
bullet points
table
glossary
sidebar
map
color variations
table of contents
index
font size/type variation
graph
timeline
Lesson 1: Text Features Introduction (Juxtaposition Activity)
Lesson 2: Text Feature Partner Poster Project
Lesson 3: Text Feature Gallery Notes
Lesson 4: Writing with Text Features & Formative Assessment (quiz)
Lesson 5: Text Features in the News (Paper & Digital Options)
Lesson 6: Text Features Review Activity
Lesson 7: Text Features Test
?
Teacher Guidelines Page
Unit Outline
Seven Detailed Lesson Plans
Five Original Informational Articles
Kinesthetic Learning Activities
Cooperative Learning Activities
Answer Keys
Grading Rubrics
Formative Assessment (Quiz)
Writing Assignments
Digital Options
Slides Presentations with Examples and Explanations
Instructions for Slides Presentations
Check out the product preview for more details!
You Might Also Like:
Freak the Mighty Skills-based Novel Unit
The Witch of Blackbird Pond - Complete Novel Unit
Informational Text Feature Unit
Free Stuff!
Did you know that TpT gives you credits towards future purchases when you leave feedback? Your feedback is so important to me as I try to provide the best products possible! Please go to your "My Purchases" page (you may need to log in). Next to each purchase, you'll see a "Provide Feedback" button. Simply click on the button and it will take you to a page where you can give a quick rating and leave a short comment. Thank you so much for providing valuable feedback!
Connect with Me!
Click on the "Follow Me" button on my store page to see all my latest products and updates!
Follow me on Instagram @mrs.nelson.teaches.
Follow me on Pinterest! Brenna Nelson
Check out my NEW blog! mrsnelsonteaches.com
Answer Key
Included with rubric
Teaching Duration
2 Weeks
Report this resource to TPT
Standards
to see state-specific standards (only available in the US).
Determine a central idea of a text and how it is conveyed through particular details; provide a summary of the text distinct from personal opinions or judgments.
Analyze how a particular sentence, paragraph, chapter, or section fits into the overall structure of a text and contributes to the development of the ideas.
By the end of the year, read and comprehend literary nonfiction in the grades 6–8 text complexity band proficiently, with scaffolding as needed at the high end of the range.
Analyze the structure an author uses to organize a text, including how the major sections contribute to the whole and to the development of the ideas.
By the end of the year, read and comprehend literary nonfiction in the grades 6–8 text complexity band proficiently, with scaffolding as needed at the high end of the range.