4th Grade Math Centers Task Cards Bundle | Games | Math Review Activities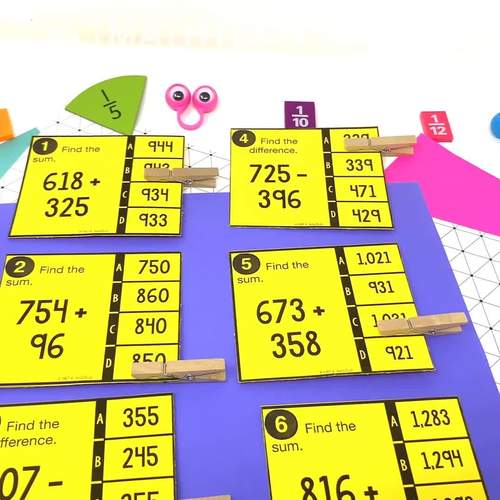 ;
What educators are saying
This was organized, helpful and engaging for my special ed students. They enjoyed working together and independently. It provided great review and plenty of practice. THANK YOU!
This resource was easy to use, and having ready-to-print games was a huge time saver. The students enjoyed these task cards in math centers.
Products in this Bundle (24)
showing 1-5 of 24 products
Bonus
Quick Print: Labels and Standards Alignment (CCSS, TEKS, & Florida B.E.S.T.)
Also included in
This 4th grade math bundle includes three activities per math topic that can be used during centers, math warm ups, math exit tickets, or math homework. This 4th grade math practice bundle includes both PRINT and DIGITAL format. - The printable format includes 72 activities - The paperless format in

Price $49.50

Original Price $99.00

Save $49.50
Description
These Fourth Grade math games will save you time and help students stay focused and organized during math centers.
This resource includes 24 game sets. This bundle includes a total of 72 math games, so you will have math centers for the entire year!
Save 40% when you purchase this bundle. ***If purchased separately, this bundle has a value of $69.00!
CLICK HERE TO DOWNLOAD ONE FREE SET!
★ Each game set includes the following: ★
- 3 Math Games: Math Sort, Matching Game, Clip Cards
- Recording Sheet
- Answer Key
Bonus File:
- Covers & Labels
- Common Core, TEKS and Florida Best Standards
- Lesson Plan Template
★ Included in This Complete Bundle ★
1 - Multiples of 10
2 - Number Forms
3 - Rounding
5 - Multiplication
6 - Division
7 - Multiplicative Comparisons
9 - Prime & Composite Numbers, Create Factor Pairs
12 - Area & Perimeter
13 - Line Plots with Fractions
14 - Angle Measurement
15 - Additive Angles
16 - Equivalent Fractions
17 - Comparing Fractions
18 - Adding & Subtracting Fractions
20 - Fractions with Denominators 10 or 100
21 - Decimal Notation for Fractions
22 - Compare Decimals
23 - Lines & Angles
24 - Classifying Shapes & Symmetry
★ The Problem with Guided Math ★
- One big problem with guided math is not knowing what to assign for math centers.
- It can get especially overwhelming when pulling math games from various places. Teachers end up wasting lots of time explaining directions and students get off task because they are confused.
- Another big problem is holding students accountable for their work during math centers. You want students to record their work, but then you don't have extra time to check or organize all the recording sheets.
★ The Solution ★
✓ The math games are standards-aligned. This means you know students are practicing the skills you are required to teach. The learning goal is posted on each math game.
✓ There is a predictable routine. Each math center has 3 math games per math standard. (Math Sort, Matching Game, Clip Cards) The game structure is the same, so you won't waste time teaching new games each week.
✓ Students use one recording sheet. Students stay organized by only needing one recording sheet per topic. An answer key is provided, so you or students can check their answers.
✓ These math games come with label cards that will help you organize the math centers. These label cards include pictures and directions for each game.
More 4th Grade Math Centers
- 4th Grade Digital Math Centers
2-5 MATH GAME BUNDLES
Report this resource to TPT
Standards
to see state-specific standards (only available in the US).
Know relative sizes of measurement units within one system of units including km, m, cm; kg, g; lb, oz.; l, ml; hr, min, sec. Within a single system of measurement, express measurements in a larger unit in terms of a smaller unit. Record measurement equivalents in a two-column table. For example, know that 1 ft is 12 times as long as 1 in. Express the length of a 4 ft snake as 48 in. Generate a conversion table for feet and inches listing the number pairs (1, 12), (2, 24), (3, 36),...
Use the four operations to solve word problems involving distances, intervals of time, liquid volumes, masses of objects, and money, including problems involving simple fractions or decimals, and problems that require expressing measurements given in a larger unit in terms of a smaller unit. Represent measurement quantities using diagrams such as number line diagrams that feature a measurement scale.
Apply the area and perimeter formulas for rectangles in real world and mathematical problems. For example, find the width of a rectangular room given the area of the flooring and the length, by viewing the area formula as a multiplication equation with an unknown factor.
Make a line plot to display a data set of measurements in fractions of a unit (1/2, 1/4, 1/8). Solve problems involving addition and subtraction of fractions by using information presented in line plots. For example, from a line plot find and interpret the difference in length between the longest and shortest specimens in an insect collection.
Recognize angles as geometric shapes that are formed wherever two rays share a common endpoint, and understand concepts of angle measurement: