5th Grade Math Centers Task Cards Bundle | Games | Math Review Activities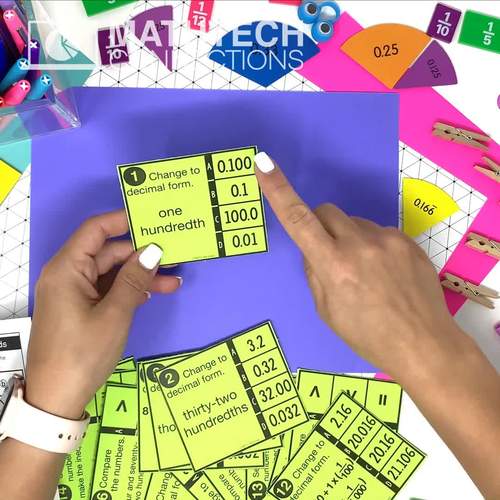 ;
What educators are saying
Awesome resource when introducing a new topics! Students can break off in teams and we can check for understanding through engaging fun!
Such a great resource. It aligned perfectly with the curriculum and reinforced what I was teaching in class. Students enjoyed using this as a grab and go center.
Products in this Bundle (23)
showing 1-5 of 23 products
Bonus
Organizational Extras: Covers, Labels, & Lesson Plan Template
Also included in
This 5th grade math bundle includes three activities per math topic that can be used during centers, math warm ups, math exit tickets, or math homework. This 5th grade math practice bundle includes both PRINT and DIGITAL format. - The printable format includes 69 activities - The paperless format in

Price $48.00

Original Price $96.00

Save $48.00
Description
These Fifth Grade math games will save you time and help students stay focused and organized during math centers.
This resource includes 23 game sets. That is a total of sixty-nine math games, so you will have math centers for the entire year!
Save 50% when you purchase this bundle. ***If purchased separately, this bundle has a value of $66.50!
CLICK HERE TO DOWNLOAD ONE FREE SET!
★ Each game set includes the following: ★
- 3 Math Games: Math Sort, Matching Game, Clip Cards
- Recording Sheet
- Answer Key

Bonus File:
- Covers & Labels
- Common Core, TEKS and Florida Best Standards
- Lesson Plan Template
★ Included in This Bundle ★
1 - Place Value
2 - Powers of 10
3 - Decimals
4 - Rounding
5 - Multiplication
6 - Division
9 - Divide Decimals
10 - Order of Operations
11 - Write & Interpret Expressions
12 - Form & Graph Ordered Pairs
14 - Line Plots with Fractions
15 - Measuring Volume
17 - Interpret Fractions as Division
19 - Multiplication as Scaling of Numbers
20 - Multiply Fractions (Word Problems)
21 - Dividing Fractions
22 - Coordinate Planes & Graphing
23 - Classifying Shapes & Hierarchy of 2D Shapes
★ The Problem with Guided Math ★
- One big problem with guided math is not knowing what to assign for math centers.
- It can get especially overwhelming when pulling math games from various places. Teachers end up wasting lots of time explaining directions and students get off task because they are confused.
- Another big problem is holding students accountable for their work during math centers. You want students to record their work, but then you don't have extra time to check or organize all the recording sheets.
★ The Solution ★
✓ The math games are standards-aligned . This means you know students are practicing the skills you are required to teach. The learning goal is posted on each math game.
✓ There is a predictable routine. Each math center has 3 math games per math standard. (Math Sort, Matching Game, Clip Cards) The game structure is the same, so you won't waste time teaching new games each week.
✓ Students use one recording sheet. Students stay organized by only needing one recording sheet per topic. An answer key is provided, so you or students can check their answers.
✓ These math games come with label cards that will help you organize the math centers. These label cards include pictures and directions for each game.
More 5th Grade Math Centers
- 5th Grade Digital Math Centers
2-5 MATH GAME BUNDLES
Report this resource to TPT
Standards
to see state-specific standards (only available in the US).
Convert among different-sized standard measurement units within a given measurement system (e.g., convert 5 cm to 0.05 m), and use these conversions in solving multi-step, real world problems.
Make a line plot to display a data set of measurements in fractions of a unit (1/2, 1/4, 1/8). Use operations on fractions for this grade to solve problems involving information presented in line plots. For example, given different measurements of liquid in identical beakers, find the amount of liquid each beaker would contain if the total amount in all the beakers were redistributed equally.
Recognize volume as an attribute of solid figures and understand concepts of volume measurement.
A cube with side length 1 unit, called a "unit cube," is said to have "one cubic unit" of volume, and can be used to measure volume.
A solid figure which can be packed without gaps or overlaps using 𝘯 unit cubes is said to have a volume of 𝘯 cubic units.